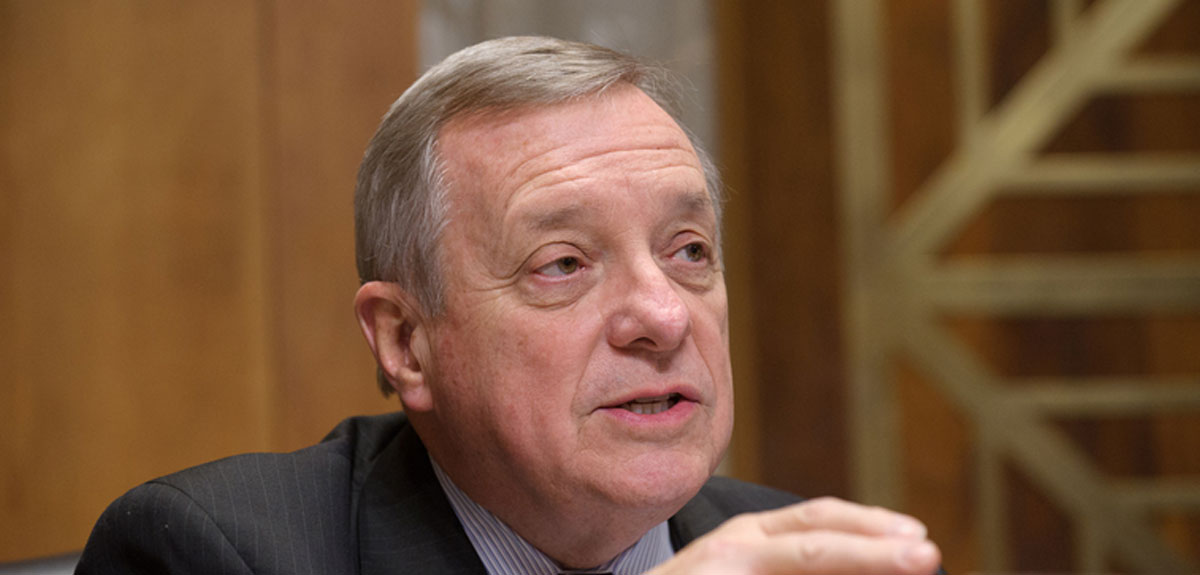 Bipartisan Dream Act Strengthens Pandemic Recovery 
Almost 200,000 Dreamers are essential workers with almost 30,000 healthcare workers as doctors and nurses
WASHINGTON, DC — Today, Sens. Dick Durbin (D-Ill.) and Lindsey Graham (R-S.C.) introduced a new version of the Dream Act, which would provide a path to lawful status and citizenship to almost 2 million Dreamers — immigrants who were brought to the United States as children.
The bill would create a conditional permanent resident status for these immigrants, allowing them to work and protecting them from deportation. If they meet certain conditions — pass a rigorous background and law enforcement check, maintain continued U.S. residency; graduate from high school or obtain a GED; pursue higher education =or serve in the military; maintain English proficiency and knowledge of U.S. history — they can transition to lawful permanent resident status.
The Dream Act is economically important and critical to getting our economy back on track. DACA recipients have been on the frontlines of pandemic response. Almost 200,000 are essential workers with almost 30,000 healthcare workers, including doctors and nurses. 93 percent of Dreamers are employed, pay close to $10 billion in taxes, and carry nearly $20 billion in spending power. Nearly 40,000 Dreamers started businesses and created jobs for American workers.
Support for legalizing Dreamers has grown since its introduction 20 years ago — 79% of all voters and 69% of Trump voters support legalizing Dreamers. A growing caucus of GOP senators have voiced support for legalizing them, including Graham, John Cornyn (R-TX), James Lankford (R-OK), Susan Collins (R-ME), Thom Tillis (R-NC), Lisa Murkowski (R-AK), Rick Scott (R-FL), Mike Rounds (R-SD).
ABIC supports bi-partisan solutions — such as the Durbin – Graham DREAM Act — that provide legal status and a path to citizenship for all of the 11 million undocumented in the U.S., including DREAMERS, agricultural workers, essential workers, and including those with insecure legal status like Temporary Protected Status holders.
Don Graham, founder of TheDream.us and board member of the American Business Immigration Coalition, said: "We applaud Senator Durbin and Senator Graham for working in a bipartisan fashion to pass a Dream Act. Dreamers are Americans in all but paper, and need permanent protections now. Democrats and Republicans support this. President Biden supports this. Poll after poll shows that most Americans support this too. Dreamers just want a chance to stay here, study and work. Giving them that chance will be good for Dreamers and good for the rest of us."
Woody L. Hunt, Senior Chairman of the Board, Hunt Companies, Inc. & ABIC Co-Chair: "If the United States wants to continue attracting and retaining top talent and to give our companies a competitive edge, then we need to stop kicking the immigration reform issue down the road. Thanks to DACA and our Dreamers, a path to stability and legal status strengthens our economy and benefits American workers. Now we are looking to Congress — including Senators Cornyn, Durbin and Graham — to pass a bipartisan Dream Act to benefit not only the Dreamers but the American workers that they support."
John Rowe, Exelon Chairman Emeritus and (ABIC) Co-Chair: "Dreamers and their employers have been waiting for more than two decades for Congress to act. Now it's time for Congress to come together across party lines and correct an injustice that has left hundreds of thousands of young people in limbo, unable to plan for their future and fully contribute to their communities. We welcome this new bipartisan effort. This is one of the most important issues facing our nation. It's time for elected officials to show courage and meet the challenge head on."
Andrea Ramos Fernandez, DACA recipient and ABIC Business Outreach Manager, said:
"As a Dreamer, I recognize that to move immigration policy forward we need to find common ground. I am hopeful that with this new bipartisan effort, all Dreamers will have an opportunity to reach our full potential. Our families, our communities, and our economic prosperity relies on the passage of the Dream Act."